The Our Generation Ministries is dedicated to helping get the right tools in the hands of preachers. Just yesterday the Our Generation Ministries purchased a bible software program for Pablo VilleCarta de Agradecimiento-Englishgas, a Peruvian pastor. This program will help Pablo as he proclaims the gospel inside of his city. We were able to get this pastor 566 resources to help better equip him as he prepares sermons and lessons. It is our goal to aid national pastors with tools that will help them minister to more people and to further the gospel.
Pablo Villagas is the pastor of Iglesia Bautista Victoria in Arequipa, Peru, a city of over one and a half million people. Pablo has sent many men from his church to start other works. The church has even seen missionaries go out of their congregation to take the gospel overseas. God is using Pastor Pablo and Iglesia Bautista Victoria greatly, and it is our privilege to partner with him in a small way to help see God's word advance. Please pray about what you can give to help us get such beneficial tools into the hands of capable men who work to fulfill the Great Commission and see others come to know Christ.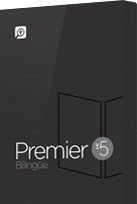 Biblioteca Premier- Bilingüe v.5

Ideal para el que desea incorporar a su estudio los clásicos de teología en inglés. Trae todos los libros de la Premier más 140 recursos en inglés. La biblioteca completa contiene un total 566 recursos que si se compraran en forma impresa costarían más de 7,000 dólares. 

Descubre más

| | | |
| --- | --- | --- |
| Valor Impreso $7.350,00 | Reg. $870,00 | |
Here is a thank you letter from Pablo Villegas.