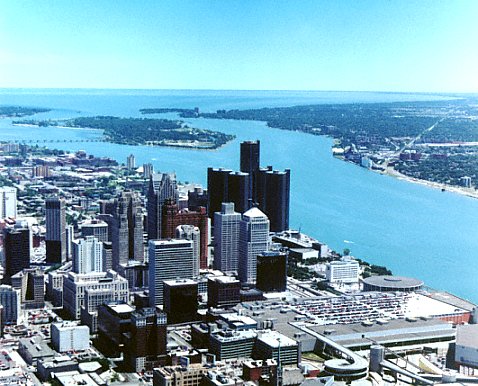 An Overview of Detroit
Founded in 1701 as "la Ville d'Etroit"—the City at the Straits—Detroit is one of the Midwest's oldest cities. Originally a strategic Native American and French trading post, by the mid-19th century the city was compared to Paris because of its scenic parks and beautiful architecture. The 20th century saw Detroit's evolution into the modern Motor City, the city that put the world on wheels (source).
Detroit has served as one of the great manufacturing hubs of the United States. Detroit's location on a narrow straight on the Great Lakes allowed the Michigan megalith to flourish as a center of shipping—serving as a gateway to America's interior—and facilitated a tremendous amount of industrial growth ensuring that its fate would be inexorably linked to that of American manufacturing (source).
Religion in Detroit
The religious history of the area stretches back to the establishment of a French fort and post along the Detroit River in 1701. Two Roman Catholic priests, a Jesuit and a Franciscan, served as chaplains to the fort, laying the groundwork for St. Anne's parish, which still serves the community. Over the years since the founding of the fort, religion in the region has diversified greatly. To the Roman Catholics were added Protestants, Middle Eastern Christians, Jews, Hindus, Buddhists and Muslims. The exact number of current religious centers in the area and their adherents is difficult, if not impossible, to obtain. Nevertheless, there are estimated to be more than 3,000 religious centers in southeastern Michigan. Despite the fact that Detroit has seen both religious and ethnic conflict in its 300 year history, the metropolitan area continues to have dynamic interfaith organizations (source).
Would you pray that God would send more laborers to this city and country to lift His name high?
Check out bcwe.org!