An Overview of Qingdao
Qingdao, also known in the West by its postal map spelling, Tsingtao, is a major city in Shandong province, Eastern China. Its built up area, made of 7 urban districts plus Jimo city, is home to about 4,346,000 inhabitants in 2010. Known for its German heritage (the city was part of a German colonial concession from 1898-1914), Qingdao rather surprisingly boasts an almost Bavarian atmosphere, and as a result of its pretty appearance, the city is often referred to locally as "Oriental Switzerland" and "Asian Geneva" The city's construction on the whole is a combination of European and traditional Chinese styles.
Lying across the Shandong Peninsula while looking out to the Yellow Sea, Qingdao is a major seaport, naval base, and industrial center.  The world's longest sea bridge, the Qingdao Haiwan Bridge, links the main urban area of Qingdao with Huangdao district, straddling the Jiaozhou Baysea areas. Along with Beijing's hosting of the 2008 Summer Olympics, Qingdao was the host city for the Olympic Sailing competitions which took place along the shoreline by the city.
In 2009, Qingdao was named China's most livable city. Living standards in Qingdao are among highest of leading Chinese cities due to the strong export economy and relatively high family wages. There is a large Korean community in Qingdao. By 2009, there were approximately 100,000 Koreans working, studying, and living in Qingdao, which makes Qingdao the second in terms of Korean population in China, following Beijing which has about 200,000 Koreans.
A local accent known as Qingdao dialect distinguishes the residents of the city from those of the surrounding Shandong province. Due to the efforts by the city government to promote standard Mandarin, most educated people can speak that language in addition to their native language. With reform policies and English teaching, some young citizens have been taught English and many can converse with foreigners. Business and traffic signs in English are becoming more and more common (source).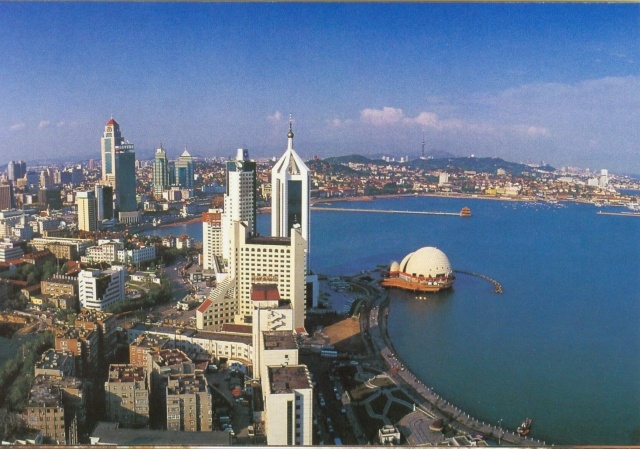 Religion in Qingdao
Religion in Qingdao includes Buddhism, Christianity, Islam, Judaism, and Taoism (source).
Would you pray that God would send more laborers to this city and country to lift His name high?
Check out bcwe.org!