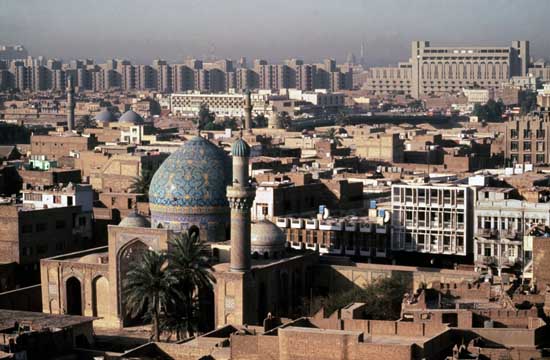 An Overview of Baghdad
Baghdad is the capital of the Republic of Iraq and the largest city in Iraq, the second largest city in the Arab World, and the second largest city in Western Asia.
Located along the Tigris River, the city was founded in the 8th century and became the capital of the Abbasid Caliphate. Within a short time of its inception, Baghdad evolved into a significant cultural, commercial, and intellectual center for the Islamic World. This in addition to housing several key academic institutions (e.g. House of Wisdom) garnered the city a worldwide reputation as the "Center of Learning." Throughout the High Middle Ages, Baghdad was considered to be the largest city in the world with an estimated population of 1,200,000 people. The city was largely destroyed at the hands of the Mongol Empire in 1258, resulting in a decline that would linger through many centuries due to frequent plagues and multiple successive empires. With the recognition of Iraq as an independent state (formerly the British Mandate of Mesopotamia) in 1938, Baghdad gradually regained some of its former prominence as a significant center of Arabic culture.
In contemporary times, the city has often faced severe infrastructural damage, most recently due to foreign occupation in March 2003 and the subsequent state of constant warfare that lasted until December 2011. In recent years, the city has been a frequent subject to insurgency activities and terrorist attacks (source).
Religion in Iraq
The major religion in Iraq is Islam. The other religions consist of those following Christianity and other sects.
Iraq's Muslims follow two distinct traditions, Shia and Sunni Islam. According to the CIA World Factbook, Iraq is 97% Muslim (60-65% Shi'a, 32-37% Sunni). In the most recent poll released in April 2011 by AKNews asking Iraqi Citizens whether they believe in God, 67% answered "yes", 21% answered "probably yes," 4% answered "probably no," and 7% answered "no."
According to tradition, Christianty was brought to Iraq in the first century by the Apostle Thomas, Addai (Thaddaeus), and his pupils Aggagi and Mari.Iraq's Syriac Christian minority represents roughly 3% of the population, mostly living in Northern Iraq, concentrated in the Ninewa and Dahuk governorates. There are no official statistics, and estimates vary greatly. In 1950, Christians numbered 7-10% of the population of 5.5 million. Since the 2003 Iraq war, Iraqi Christians have been dislocated to Syria in significant, but unknown numbers. Iraqi Christians are divided into three church bodies:
"Chaldeans" (Chaldean Catholic Church)
"Assyrians" or "Nestorian" group (Assyrian Church of the East and Ancient Church of the East)
"West Syriac" or "Jacobite" group (Syriac Orthodox Church and Syriac Catholic Church) (source)
Would you pray that God would send more laborers to this city and country to lift His name high?
Check out bcwe.org!